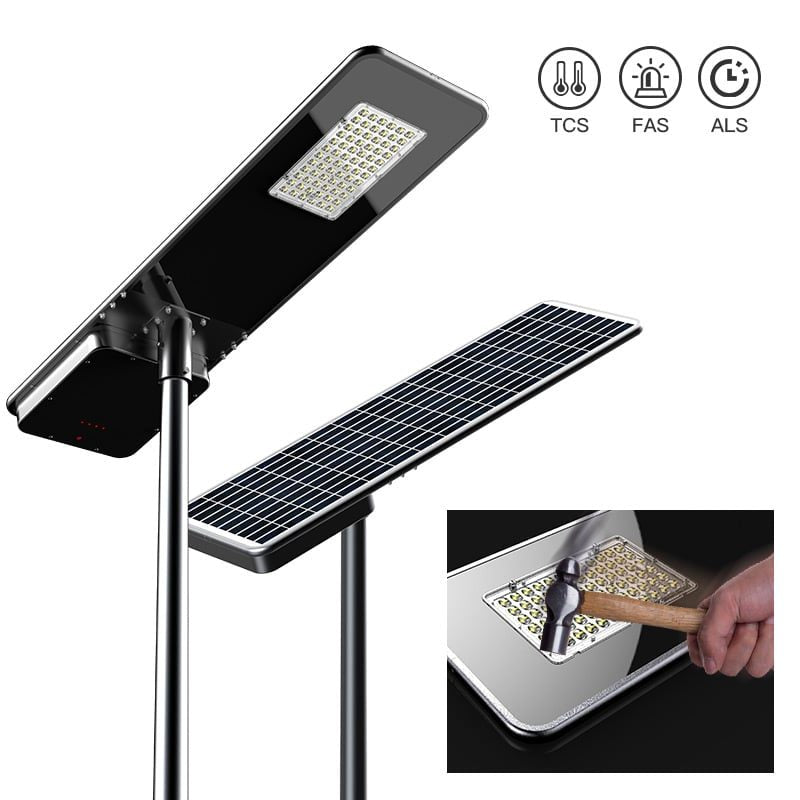 Synergy B Series Integrated Solar Street Light
NOTE: All Street lights are made to order with a lead time of 6 to 8 weeks from order placement date to delivery date, this enables us to reduce the risk of products being damaged while in storage and to minimise out of date stock and reduce impact on the environment for producing of unnecessary products.
Description
The Only solar street light in the market with an explosion-proof glass body, Design concept from iPhone
FAS: Quickly help users identify which component of the solar panel, battery, LED light board, or PCBA board has a problem
Quickly change the lamp panel in 5 seconds by hands, Quickly meet the different needs of LED colour temperatures
New material +New technology: explosion-proof tempered glass material, double-layer process treatment of iron sleeve: electrophoresis + powder coating
Very professional Type III light distribution: higher spacing height ratio of the luminaire (Max4.5:1)
Support universal joint bracket, installation angle can be adjusted freely
| | | | | |
| --- | --- | --- | --- | --- |
|  Watts | Temperature | Height | Distance | Lumens |
| 20W | 4000K | 3M | 15M | 2000 LUMENS |
| 40W | 4000K | 4M | 18M | 4000 LUMENS |
| 60W | 4000K | 6M | 27M | 6000 LUMENS |
| 80W | 4000K | 8M | 36M | 8000 LUMENS |
| 100W | 4000K | 10M | 45M | 10000 LUMENS |
| 120W | 4000K | 12M | 54M | 12000 LUMENS |
Advantages:
Our lights have Advanced technology which means that our lights operate at full efficiency between 7 to 12 days, even on cloudy, snowy or rainy days on a full charge.
Our Lights improve security, strengthen community ties and enhance the attractiveness of remote locations, towns and cities.
They charge through the largest renewable energy source - the sun!
They reduce electricity bills - no need to pay for ongoing and rising electricity costs.
They have diverse applications and can be easily relocated.
They have low or no ongoing maintenance costs.
They are cheap and easy to install, and there is no need for an electrician.
They improve your energy security and independence.
They help your business's green credentials and Corporate Social Responsibility (CSR).
They reduce your impact on the environment.
FEATURES

Explosion-proof glass body
TCS thermostatic technology
FAS automatic error reporting function
ALS automatically extends lighting time
Comparison of battery with ALS and without ALS
less pollution
Colour can be customized
Corporate/Government/Bulk 

Synergy Solar Lights for your organisation

Having undertaken over 8 years of research into solar lighting and green energy solutions, this has culminated in us producing three core intelligent technologies to support lighting in a cloudy, snowy or rain-affected environment, sophisticated temperature control systems in extremely hot or cold environments.

At Synergy Solar Lights we strive to be the top sustainable solution provider in the field of solar lighting and green energy solutions. We take immense pride in our sustainability achievements and to date we have provided sustainable solar lighting and green energy solutions to a vast amount of organisations.



There are a number of important benefits to businesses who choose solar lights, including:

They charge through the largest renewable energy source - the sun!

They

 

reduce electricity bills

 

- no need to pay for ongoing and rising electricity costs.
They have

 

diverse

 

applications and can be easily relocated.
There are low or no ongoing maintenance costs.
Advanced technology

 

means they operate at full performance between 7 to 12 days, even on cloudy, snowy or rainy days on a full charge.
They are cheap and

 

easy to install, and there is no need for an electrician.
They

 

improve your energy security

 

and independence.
They help your business's

 

green credentials

 

and

 

Corporate Social Responsibility

 

(CSR).
They

 

reduce your impact on the environment.

Solar street lighting is worth the money in comparison to traditional lighting because it saves corporations, businesses, and councils money over time and their impact on the environment.

You won't need to replace the LED fixtures as often, you save a lot of money on trenching, and don't need to worry about buying expensive permits.

Synergy Solar Lights is backed by qualified engineers and professionals at hand with more than eight years of research in the field of solar lighting.

At Synergy Solar Lights we believe that cooperation and collaboration are key elements in moving forward and therefore invite you all to join us on our journey in creating a bright and sustainable future

Our experts in solar lighting are here to help optimise your organisation or projects lighting needs corporate@synergysolarlights.com

 
Choose options