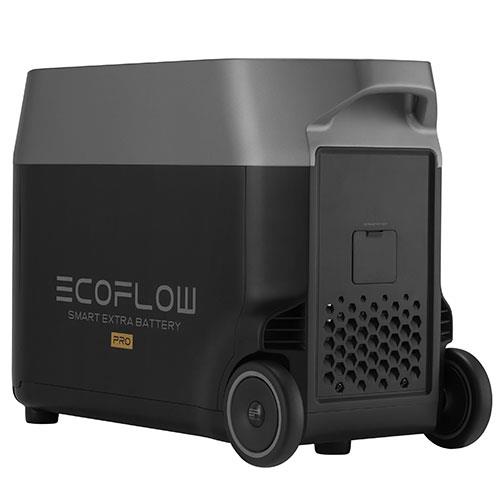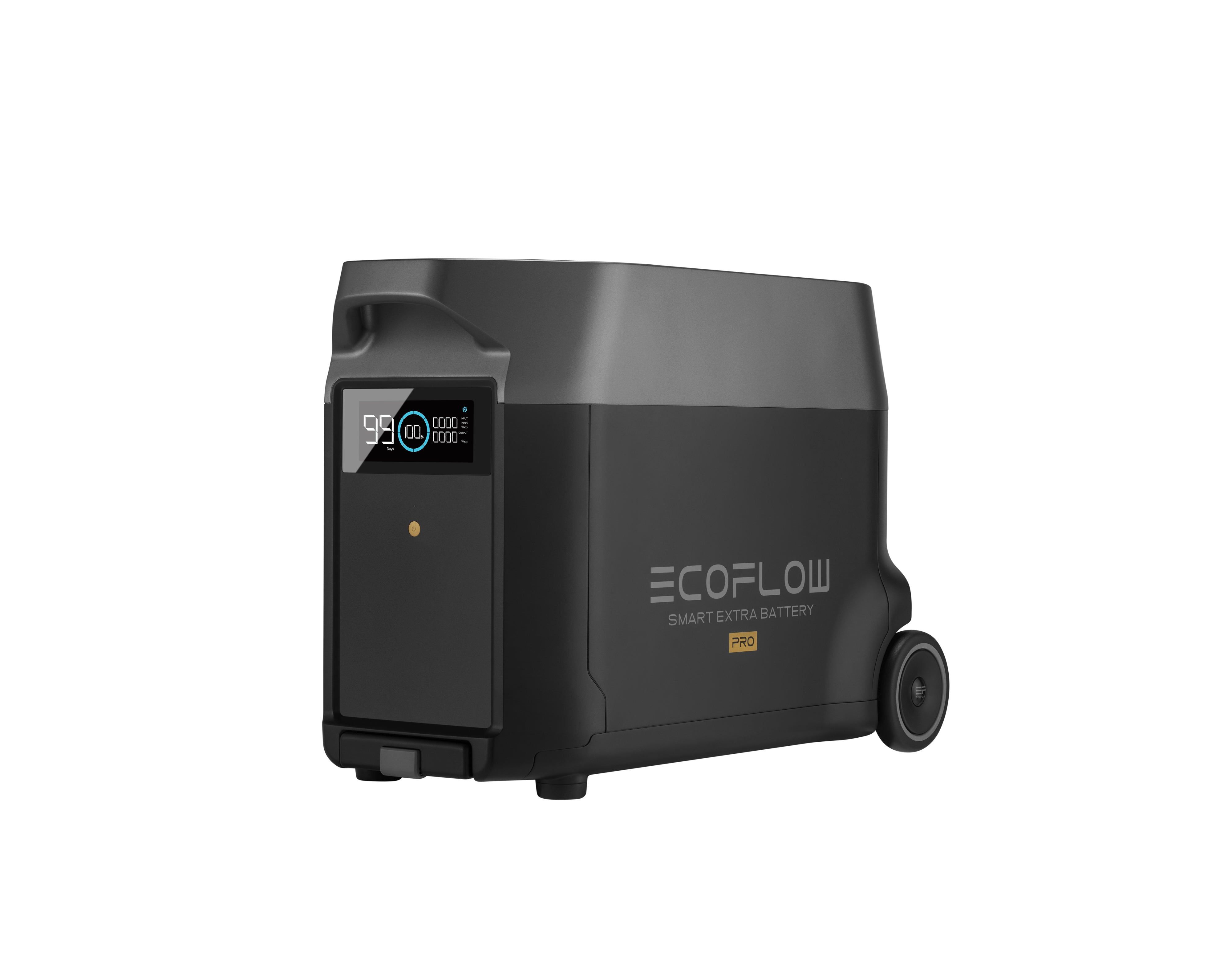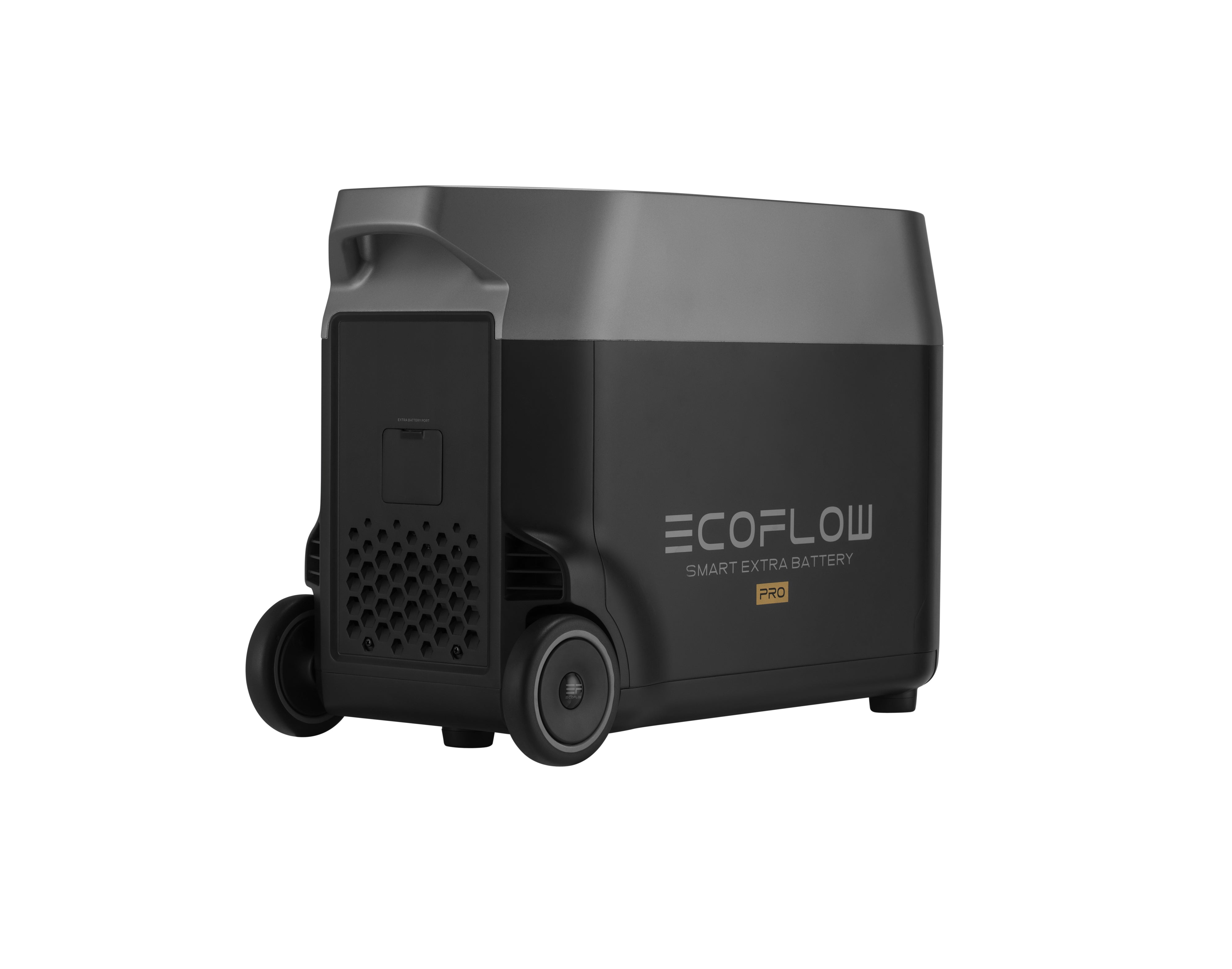 EcoFlow Delta Pro Smart Extra Battery
Sale price

$3,336.00
Regular price
(/)
The EcoFlow Delta Pro Smart Extra Battery is a 3600Wh add-on battery that connects with a Delta Pro Power Station to double total capacity to 7200Wh. It gives you days of power for your essential appliances. This Extra Battery can recharge directly from EcoFlow's Smart Generator outdoors, giving you another option for emergencies.
Convenient recharging
Recharging from solar panels, AC outlets, EV charging stations, or the Smart Generator is easy. Plug the Extra Battery into DELTA Pro and they will recharge and discharge in tandem.
Charge from:
- Wall outlets
- Solar panels
- EV charging stations
- Smart generator
- Car
- Wind (coming soon)
More watt-hours at home
The extra battery can be integrated to your home's wiring when connected to DELTA Pro. These battery units become part of your home's peak shaving and emergency power solutions.
Built-in LCD screen
The Smart Extra Battery sports a bright LCD screen on the front of the unit giving you all the info you need. Output, input, remaining charge and time remaining. It's all there. Need on the go info? The EcoFlow app can tell you all that and a whole lot more.
FEATURES

- Capacity: 3600Wh
- Battery Cycle Life: 6,500 cycles to 50% capacity, 3,500 cycles to 80% capacity
- Dimensions: 63.5 x 28.5 x 41.6 cm
- Weight: Approx. 38kg
Corporate/Government/Bulk 

Synergy Solar Lights for your organisation

Having undertaken over 8 years of research into solar lighting and green energy solutions, this has culminated in us producing three core intelligent technologies to support lighting in a cloudy, snowy or rain-affected environment, sophisticated temperature control systems in extremely hot or cold environments.

At Synergy Solar Lights we strive to be the top sustainable solution provider in the field of solar lighting and green energy solutions. We take immense pride in our sustainability achievements and to date we have provided sustainable solar lighting and green energy solutions to a vast amount of organisations.



There are a number of important benefits to businesses who choose solar lights, including:

They charge through the largest renewable energy source - the sun!

They

 

reduce electricity bills

 

- no need to pay for ongoing and rising electricity costs.
They have

 

diverse

 

applications and can be easily relocated.
There are low or no ongoing maintenance costs.
Advanced technology

 

means they operate at full performance between 7 to 12 days, even on cloudy, snowy or rainy days on a full charge.
They are cheap and

 

easy to install, and there is no need for an electrician.
They

 

improve your energy security

 

and independence.
They help your business's

 

green credentials

 

and

 

Corporate Social Responsibility

 

(CSR).
They

 

reduce your impact on the environment.

Solar street lighting is worth the money in comparison to traditional lighting because it saves corporations, businesses, and councils money over time and their impact on the environment.

You won't need to replace the LED fixtures as often, you save a lot of money on trenching, and don't need to worry about buying expensive permits.

Synergy Solar Lights is backed by qualified engineers and professionals at hand with more than eight years of research in the field of solar lighting.

At Synergy Solar Lights we believe that cooperation and collaboration are key elements in moving forward and therefore invite you all to join us on our journey in creating a bright and sustainable future

Our experts in solar lighting are here to help optimise your organisation or projects lighting needs corporate@synergysolarlights.com

 
Choose options