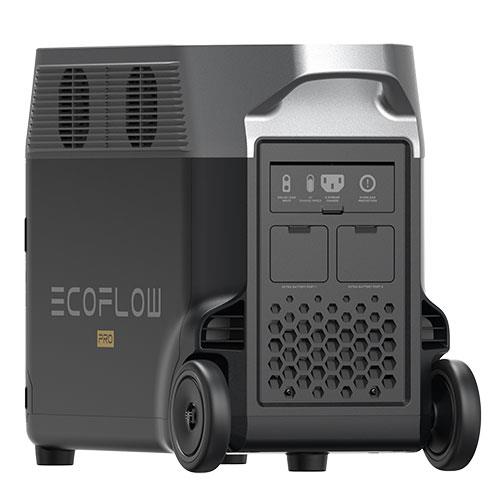 EcoFlow Delta Pro Portable Power Station
Sale price

$4,452.00
Regular price

$4,490.00
(/)
EcoFlow Delta Pro is a portable home power station battery with an expandable ecosystem for home backup, smart energy management, lower energy bills, and more. The Delta Pro is the next leap in portable power technology, offering you power security and independence, wherever you are.
Huge capacity
DELTA Pro harnesses a staggering 3.6kWh capacity which can be expanded up to 25kWh. This combined with its direct integration with your home via the Smart Home Panel allows you to always keep the power on.
Power almost anything
When it comes to AC output DELTA Pro is the industry leader. With 3600W, it's easy to power heavy-duty appliances from microwaves to AC units. Looking for even more power? The EcoFlow Smart Home Panel, or Double Voltage Hub allows you to pair two units together to hit a massive 7200W output.
An intelligent ecosystem
DELTA Pro is more than just a backup power supply. It's an expandable ecosystem that can integrate extra batteries, smart generators and the Smart Home Panel, giving you more power options than ever before. Control it all in a few taps with the EcoFlow app.
Multiple ways to control & monitor
Control DELTA Pro either on the unit itself, using the remote control accessory, or unlock a ton of customization via the EcoFlow app. On the app, you can access your power settings, such as charging and discharging levels, AC charge speeds, control the Smart Generator and a whole lot more.
Unparalleled charging speeds
Enjoy the versatility of DELTA Pro with FlowCharge. With 6 different charging options from renewable energy sources to traditional wall outlets, you can charge anywhere, any time. It's the first of its kind that can be charged from an EV station, and thanks to MultiCharge you can combine charging options to reach a 6500W charge.
A smarter home The beating heart of the DELTA Pro ecosystem is the EcoFlow Smart Home Panel. It acts as an intermediary between your DELTA Pro(s) and up to 10 home circuits. In the event of a blackout, the panel automatically draws power (up to 25kWh) from your DELTA Pro ecosystem. This keeps all of your chosen circuits powered, giving you the ideal home backup plan.
Go renewable with 1600W solar charging
EcoFlow's suite of solar products give you a cost-effective renewable energy source to stay powered. You can use solar energy to charge DELTA Pro in just 2.8-5.6 hours. DELTA Pro has a wide voltage range from 11-150V, which makes it compatible with 90% of third-party solar panels with solar connectors. And when the weather gets unpredictable, the smart maximum power point tracking (MPPT) automatically adjusts, maximizing your solar generation at any time of the day.
A battery that lasts for years
DELTA Pro sports a brand-new LFP battery with 6500 cycles, which means you can use DELTA Pro for years and years before your unit reaches 50% of the original capacity. EcoFlow's battery management system provides real-time analysis and regulation of voltage, current, and temperature. This unique protection mechanism makes DELTA Pro an incredibly safe and efficient home battery.
Charge up at thousands of EV stations
For the first time ever with a portable power station, you can charge up at thousands of EV stations worldwide. This unique charging method gives you up to 3400W fast charging on the go.
FEATURES

- Weight: Approx. 45kg
- Dimensions: 63.5x28.4x42cm
- Capacity: 3600Wh
- AC output: 4 outlets, 230V/16A, 3600W total (Surge 7200W)
- Connection: Wi-Fi, Bluetooth, wired
OTHER INFORMATION
Corporate/Government/Bulk 

Synergy Solar Lights for your organisation

Having undertaken over 8 years of research into solar lighting and green energy solutions, this has culminated in us producing three core intelligent technologies to support lighting in a cloudy, snowy or rain-affected environment, sophisticated temperature control systems in extremely hot or cold environments.

At Synergy Solar Lights we strive to be the top sustainable solution provider in the field of solar lighting and green energy solutions. We take immense pride in our sustainability achievements and to date we have provided sustainable solar lighting and green energy solutions to a vast amount of organisations.



There are a number of important benefits to businesses who choose solar lights, including:

They charge through the largest renewable energy source - the sun!

They

 

reduce electricity bills

 

- no need to pay for ongoing and rising electricity costs.
They have

 

diverse

 

applications and can be easily relocated.
There are low or no ongoing maintenance costs.
Advanced technology

 

means they operate at full performance between 7 to 12 days, even on cloudy, snowy or rainy days on a full charge.
They are cheap and

 

easy to install, and there is no need for an electrician.
They

 

improve your energy security

 

and independence.
They help your business's

 

green credentials

 

and

 

Corporate Social Responsibility

 

(CSR).
They

 

reduce your impact on the environment.

Solar street lighting is worth the money in comparison to traditional lighting because it saves corporations, businesses, and councils money over time and their impact on the environment.

You won't need to replace the LED fixtures as often, you save a lot of money on trenching, and don't need to worry about buying expensive permits.

Synergy Solar Lights is backed by qualified engineers and professionals at hand with more than eight years of research in the field of solar lighting.

At Synergy Solar Lights we believe that cooperation and collaboration are key elements in moving forward and therefore invite you all to join us on our journey in creating a bright and sustainable future

Our experts in solar lighting are here to help optimise your organisation or projects lighting needs corporate@synergysolarlights.com

 
Choose options