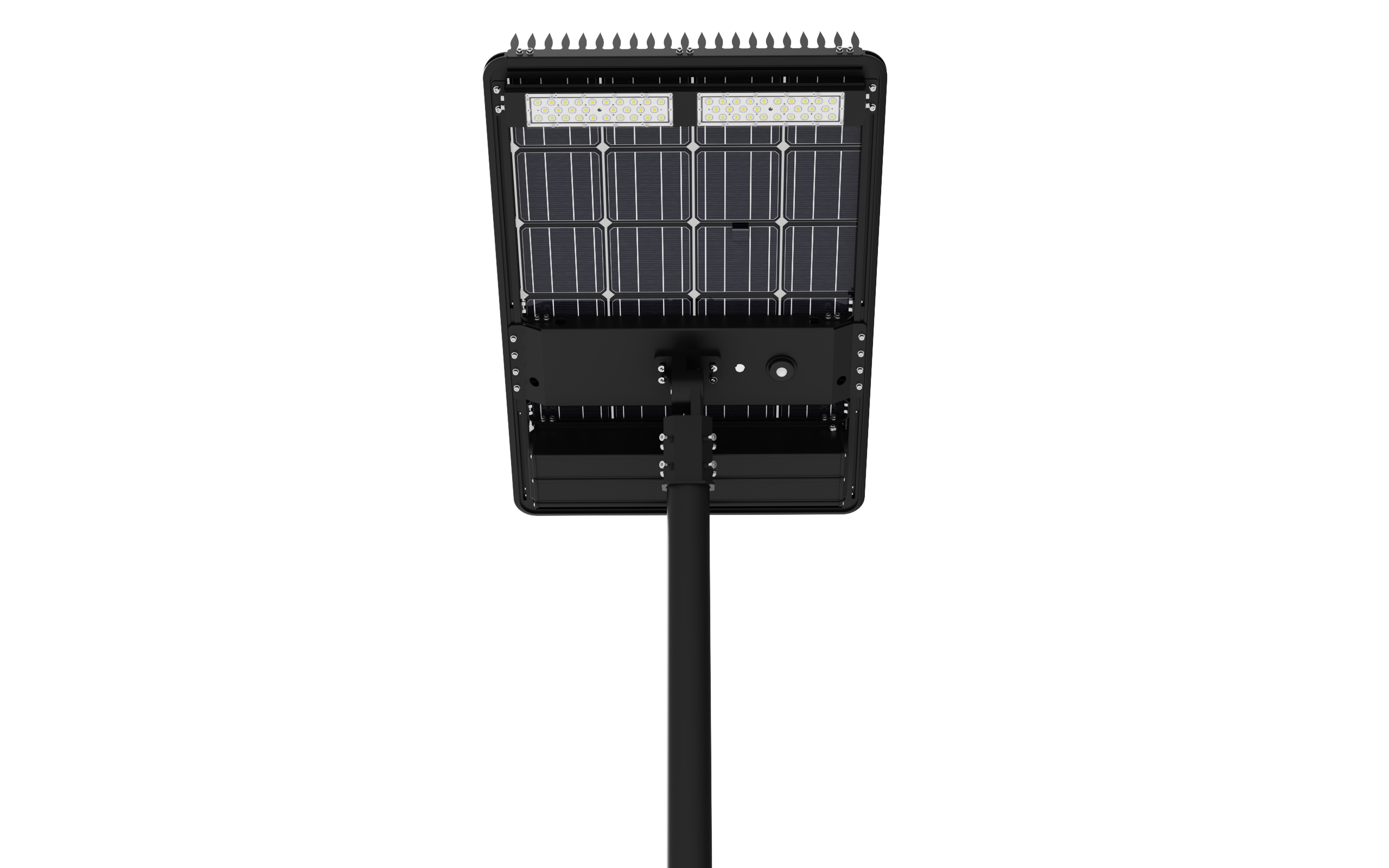 Stratford M1 Series Solar Light
NOTE: All Street lights are made to order with a lead time of 2 to 6 weeks from order placement date to delivery date, this enables us to reduce the risk of products being damaged while in storage and to minimise out of date stock and reduce impact on the environment for producing of unnecessary products.


Description
Stratford M1 Series Solar light
Unique simple design; large LED panel for wider lighting area; external battery pack with good heat dissipation.

1. 

The bifacial solar panel

 absorbs sunshine on both sides, which increases the solar cell efficiency up to 23%, provides fast and effective charging even during cloudy days.

2. With 

200LM/W

 high lumen efficiency, our products are more energy-efficient and last longer with the same battery. In addition, we use our patent optical lens with potted glue to shorten the distance of light.

3. 

Battery externally mounted

, insulating heat from the solar panel when charging, which effectively ensure battery safety. It is of great convenience, you can remove the screws for installation and replacement within 5 minutes.

4.

The LED part is rotatable

, so you can adjust the angle of the LED part for illumination.

5. The

 ASW 3.0 technology

 can detect the battery capacity to automatically reduce the output power and output current when the battery capacity is low, in this way, the solar light can operate for longer time in continuous rainy or cloudy days.

6. 

PTC battery auto-heater system

 available, allows the realization for it working at low temperature environments.

7. 

Anti-bird spike

 device available, can effectively protect the light from large birds and other animals. 

Technological innovation.
Battery can work in Hot

and cold temperatures from -2

0°C

 up to 60°C.

.
Independent modules of all important components are fully waterproof & anti corrosive.
Users can adjust the lighting mode and lighting time according to seasonal changes or sunlight conditions.
Support universal joint bracket, installation angle can be adjusted freely.

An efficient solution to provide lighting without the need for connecting utility electricity.

Every solar light is an independent integrated solar lighting system, it works automatically with no need of electricity/electrical wires for installation.
1. Extendable Battery Module (Lithium Ion Battery)

The battery has a super high cooling structure

You can add battery module to meet different requirements of back up time, meanwhile the battery is very easy to install and maintain.

 2. Sturdy design

Two steps aluminum surface treatment - anodizing and powered coating.

It is strong to stand in extremely environment.

Metal mounting support makes it sturdy.

The bolts takes use of anti-theft design for safety

3. Bifacial solar panel

absorbs sun energy from top and bottom sides

Motion sensor
Replaceable battery
Vandal-proof Cover
Phillips LED Chips
Built in solar panel auto heating system for colder climates
Max 160W Bifacial Mono-Crystalline Solar Panel
Die-cast housing
Anti-glare design
Dual CCT (3000K/6000K) (or Amber/4000K)
Marine Grade
Available in the following specs: 
50W -  10000Lm

60W -  12000Lm
75W -  15000Lm
100W- 20000Lm
Corporate/Government/Bulk 

Synergy Solar Lights for your organisation

Having undertaken over 8 years of research into solar lighting and green energy solutions, this has culminated in us producing three core intelligent technologies to support lighting in a cloudy, snowy or rain-affected environment, sophisticated temperature control systems in extremely hot or cold environments.

At Synergy Solar Lights we strive to be the top sustainable solution provider in the field of solar lighting and green energy solutions. We take immense pride in our sustainability achievements and to date we have provided sustainable solar lighting and green energy solutions to a vast amount of organisations.



There are a number of important benefits to businesses who choose solar lights, including:

They charge through the largest renewable energy source - the sun!

They

 

reduce electricity bills

 

- no need to pay for ongoing and rising electricity costs.
They have

 

diverse

 

applications and can be easily relocated.
There are low or no ongoing maintenance costs.
Advanced technology

 

means they operate at full performance between 7 to 12 days, even on cloudy, snowy or rainy days on a full charge.
They are cheap and

 

easy to install, and there is no need for an electrician.
They

 

improve your energy security

 

and independence.
They help your business's

 

green credentials

 

and

 

Corporate Social Responsibility

 

(CSR).
They

 

reduce your impact on the environment.

Solar street lighting is worth the money in comparison to traditional lighting because it saves corporations, businesses, and councils money over time and their impact on the environment.

You won't need to replace the LED fixtures as often, you save a lot of money on trenching, and don't need to worry about buying expensive permits.

Synergy Solar Lights is backed by qualified engineers and professionals at hand with more than eight years of research in the field of solar lighting.

At Synergy Solar Lights we believe that cooperation and collaboration are key elements in moving forward and therefore invite you all to join us on our journey in creating a bright and sustainable future

Our experts in solar lighting are here to help optimise your organisation or projects lighting needs corporate@synergysolarlights.com

 
Choose options