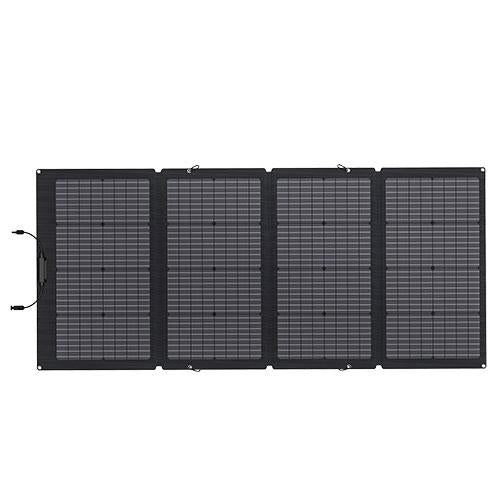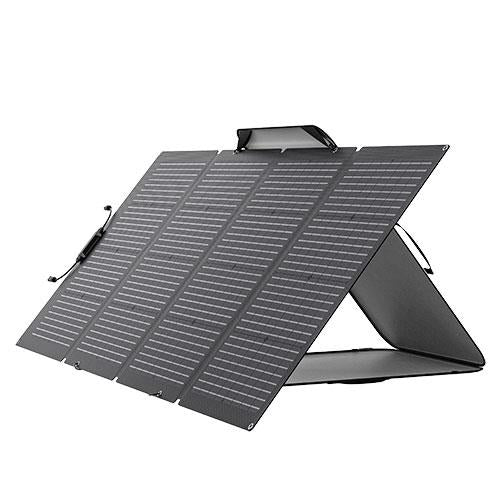 EcoFlow 220W Bifacial Portable Solar Panel
Sale price

$731.00
Regular price
(/)
The EcoFlow 220W Bifacial Portable Solar Panel is a two-in-one solar panel that has a 220W primary side and a 155W side on the back for ambient light. You can capture up to 25% more solar energy and charge your portable power station even faster. With a mirrored surface and you can get up to 80% more energy. It is compatible with all EcoFlow River and Delta models. It comes a kickstand carry case so you can take it anywhere.
Tempered glass
The thin, one-piece tempered glass design makes it five times tougher than comparable panels with half the thickness of traditional tempered glass. Capable of withstanding heat up to 300°F , it's safe to say it can resist the elements.
Portable design
This a portable solar panel designed from the ground up to be compact. 10% smaller than comparable 220W panels, it saves space with thinner tempered glass, and less surface area required for the same input.
Kickstand carry case
It comes with its own carry case so you can take it anywhere. Once you arrive at your destination, simply unfold it and use it as a kickstand to get your sun exposure just right.
Waterproof and dustproof
This panel. It's completely water and dust-tight. Rain, wind or shine, your panel is safe with an IP68 waterproof rating.
FEATURES

- Rated Power: 20W Front Side/155W Rear Side
- Efficiency: 22-23%
- Dimensions: 82 x 183 x 2.5cm
- Weight Approx. 9.5kg
- Compatible with all EcoFlow River and Delta models
Corporate/Government/Bulk 

Synergy Solar Lights for your organisation

Having undertaken over 8 years of research into solar lighting and green energy solutions, this has culminated in us producing three core intelligent technologies to support lighting in a cloudy, snowy or rain-affected environment, sophisticated temperature control systems in extremely hot or cold environments.

At Synergy Solar Lights we strive to be the top sustainable solution provider in the field of solar lighting and green energy solutions. We take immense pride in our sustainability achievements and to date we have provided sustainable solar lighting and green energy solutions to a vast amount of organisations.



There are a number of important benefits to businesses who choose solar lights, including:

They charge through the largest renewable energy source - the sun!

They

 

reduce electricity bills

 

- no need to pay for ongoing and rising electricity costs.
They have

 

diverse

 

applications and can be easily relocated.
There are low or no ongoing maintenance costs.
Advanced technology

 

means they operate at full performance between 7 to 12 days, even on cloudy, snowy or rainy days on a full charge.
They are cheap and

 

easy to install, and there is no need for an electrician.
They

 

improve your energy security

 

and independence.
They help your business's

 

green credentials

 

and

 

Corporate Social Responsibility

 

(CSR).
They

 

reduce your impact on the environment.

Solar street lighting is worth the money in comparison to traditional lighting because it saves corporations, businesses, and councils money over time and their impact on the environment.

You won't need to replace the LED fixtures as often, you save a lot of money on trenching, and don't need to worry about buying expensive permits.

Synergy Solar Lights is backed by qualified engineers and professionals at hand with more than eight years of research in the field of solar lighting.

At Synergy Solar Lights we believe that cooperation and collaboration are key elements in moving forward and therefore invite you all to join us on our journey in creating a bright and sustainable future

Our experts in solar lighting are here to help optimise your organisation or projects lighting needs corporate@synergysolarlights.com

 
Choose options